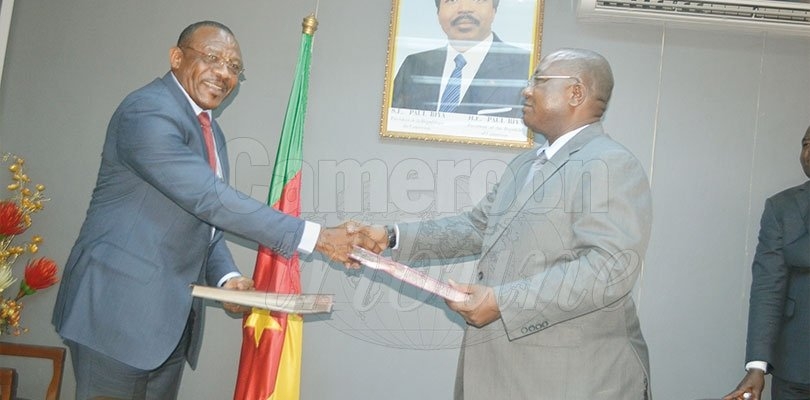 Agreements and other framework agreements are regularly signed between the Ministry of Mines, Industry and Technological Development (MINMDT) and industry managers. "This is a necessary step in the implementation of the industrialisation master plan that continues to make important strides in its operationalisation," Minister Ernest Gbwaboubou said in Yaounde. The minister was speaking on 27 August 2018 during the signing of a new framework partnership agreement between the Republic of Cameroon, represented by MINMIDT, and the Association for Textile Development and Awareness (ADESCOT), represented by its Chairperson Jean Claude Djimen.
This agreement provides for the construction, organisation and functioning of a technical centre for textiles and clothing in Cameroon. It should be noted that the industrialisation master plan (IMP) provides for the textile-leather-making sector, two main branches namely the textile and clothing industries branch and the leather and shoes manufacturing industries branch. The textile sector is a key industrial pillar for the national economy.
For his part, the ADESCOT President harped on the need to clean up, modernise and develop the national textile sector. Thanks to this partnership, ADESCOT will be the project owner of the future textile and leather technical management centre in Cameroon, tasked with conducting technical, economic, financial and environmental feasibility studies. It will also partner with the Government of Cameroon to seek technical and financial partners for the construction, equipment and proper operation of the technical management centre.
(Source: Cameroon Tribune No. 11666 of August 28, 2018)